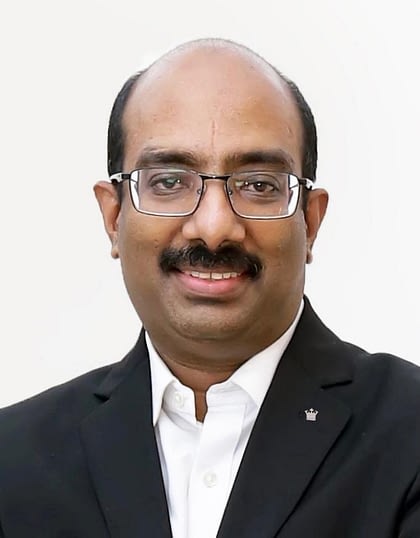 Oral and Maxillo Facial Surgeon
Oral Implantologist
Cosmetic Dental Specialist
Laser Dental Practitioner
Digital Dentistry Specialist
A world renowned multifaceted Dental and Surgery specialist with experience of over 20 years in Dentistry, more than 15 years in Oral Implantology and 10 years in Oral and Maxillo Facial Surgery as well as 4 years in Digital Dentistry.
An eminent Oral and Maxillo Facial Surgeon, he graduated from Bangalore University and did his post-graduation (MDS) in Oral and Maxillo Facial Surgery from Dr. MGR Medical University with Special attention to Orthognathic Surgeries and Trauma Care.
He holds a post graduate certification in Aesthetic Dentistry from School of Dental Medicine – State University of New York at Buffalo USA (PCAD). He holds Clinical Masters in Oral Implantology (MOI) from New York University (USA) in association with DACE.
He is exceptionally trained in Dental Implant Surgery, Dental Lasers and Maxillo Facial Surgery. He has travelled extensively, to learn from world leaders in these fields, acquiring various fellowships.
He was awarded fellowship (FICOI) and Diplomate certification in Implantology from International Congress of Oral Implantologists (DICOI). He is an active executive member and Speaker for Indian Society of Oral Implantologists (ISOI) since several years, and is also an accredited member, Member of the Board of Directors and Joint Secretary for Indian Academy of Aesthetic and Cosmetic Dentistry (IAACD).
He was bestowed with the Dr. APJ Abdul Kalam Life Time Achievement National Award in 2019 for his tremendous contribution to the field of Clinical Dentistry, and has been awarded with the Famdent Excellence in Dentistry Awards – specialist Dentist of the year – Implantologist in 2019.
Dr. Segin Chandran is presently the editor for "Esthetic Expressions", the official journal of Indian Academy of Aesthetic and Cosmetic Dentistry.
He is an active member of Indian Academy of Laser Dentistry (IALD) and the first Waterlase (Hard and soft tissue Laser) user from Kerala and is presently an international trainer for Laser Dentistry (Biolase -USA).
He shares his knowledge and clinical expertise by training Dental Surgeons in various branches of Dentistry through IICD (Institute for Implants and Clinical Dentistry) conceptualised for excellence in Clinical Dentistry. IICD conducts various educational activities in Oral Implantology, Minor surgery training, Advanced Endodontic training, Laser and Cosmetic Dentistry courses.
He is the Founder Director and Chief Surgeon of Kamala Dental Specialty Hospital, a premiere institution for Dental and Facial makeovers, a NABH accredited super specialty dental hospital in Kerala.
He is currently working as Consultant, Oral and Maxillo Facial Surgeon in various hospitals and trauma centers in Thiruvananthapuram – capital city of Kerala State in India, including PRS Hospital Killipalam and GG Hospital, Pattom. He previously reigned as an Associate Professor in Oral and Maxillofacial Surgery at SMCSI Medical College Karakonam Thiruvananthapuram, Kerala.
He is a key opinion leader for MegaGen Dental Implants (Korea) and Dentsply Sirona Digital solution (Germany). He is the first international speaker for Megagen from India – MINEC Knight.
He moderates research activities in various aspects of "Oral Implantology" at Kamala Dental Implant Research Institute and is presently a guide for PhD programme in Santosh University Uttar Pradesh, India. He is currently doing his research in 'Integrated Implantology' leading to his PhD.
He continuously gives radio talks and TV shows to promote dental and surgical awareness among general public and writes extensively in magazines and journals as an active columnist.
He is an active member of AOMSI (Association of Oral and Maxillofacial Society of India). He is a member of Digital Dentistry Society (DDS) International and actively promotes digital solution for Dentistry , Implantology and Surgery.
Expert Dentists with Modern Technology
© 2020 www.kamaladental.com | All Rights Reserved