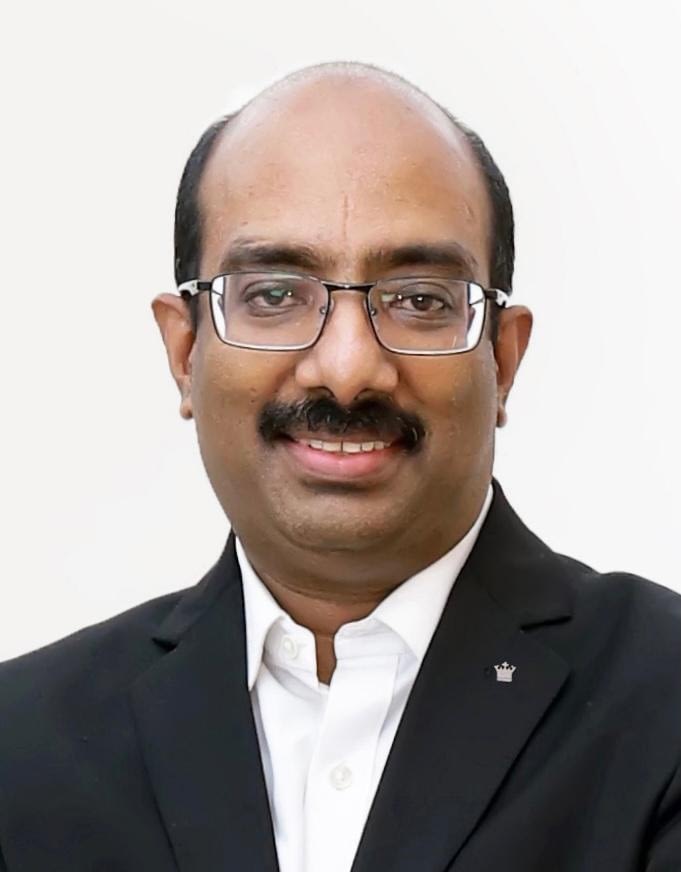 Dr. SEGIN CHANDRAN K.R | MDS (OMFS), MOI (USA), DICOI (USA)
Oral & Maxillo Facial Surgeon – Implantologist – Laser & Cosmetic Dentist
Founder Director of Kamala Dental Specialty Hospital – a multifaceted and well-reputed clinician, an acknowledged researcher, respected teacher, an excellent orator, graduated from Bangalore University and hold a post-graduation (MDS) in Oral and Maxillo Facial Surgery from Dr. MGR Medical University. With his vast experience and clinical expertise in various fields of Dentistry and Surgery, he leads Kamala Dental Specialty Hospital.
He holds a post graduate certification in Aesthetic Dentistry from school of Dental Medicine (PCAD), University of New York at Buffalo, USA. He holds Clinical Masters in Oral Implantology (MOI) from New York University, USA in association with (DACE).
He was awarded a Fellowship (FICOI) and Diplomate certification in Implantology from International Congress of Oral Implantologists (DICOI) and is an active executive member and speaker for Indian Society of Oral Implantologists (ISOI) for several years. He is an accredited member, Member of the Board of Directors and Joint Secretary for Indian Academy of Aesthetic and Cosmetic Dentistry (IAACD).
Dr. PRIYA MADHUSUDANAN MDS
CONSERVATIVE DENTISTRY & ENDODONTICS
An endeavoring and adept Endodontist who graduated from Dr. M.G.R Medical University and Post- Graduation from Kerala University of Health Sciences. She attained certification for crown and bridge work and Clinical Endodontics from the National institute of clinical Endodontics, Bangalore. She has presented various papers at national level conferences to her credit.
Dr. DRISYA L
CONSERVATIVE DENTISTRY & ENDODONTICS
A well experienced Endodontist. Graduated from Dr. M.G.R Medical University and Post-Graduation from Kerala University with keen focus on Advanced Endodontics and Conservative Dentistry. Her expertise is in minimally invasive conservative dentistry.
Dr. JENSY GEORGE MDS
PROSTHODONTICS
A passionate Prosthodontist and Oral Implantlogist with keen focus on digital protocols in prosthetics and dental implant restorations. She graduated from AB Shetty Memorial Institute of Dental Sciences and post graduate from Dr. MGR Medical University. She is also serving as a research associate in Kamala Dental Implant Research Institute (KDIRI).
Dr. SHILPA GEORGE MDS
ORTHODONTICS AND DENTOFACIAL ORTHOPEDICS
Dr. SAJNA H.R MDS
VISITING CONSULTANT
A proficient Periodontist, she graduated from Kerala University and Post Graduation from NITTE University. She has secured first rank in her specialty and is well trained in Periodontic plastic surgery like mucogingival surgeries. Her expertise include correction of mutilated cases with poor gum health and dental care in compromised patients with diabetes and cardiac issues.
Dr. LAKSHMI A
Dental surgeon and Oral Implantologist with keen interest in Cosmetic Dentistry and Endodontics. Completed graduation from MGR Medical University with vast experience in General Dentistry and Implant Prosthodontist. Full time faculty at IICD. Well recognised for her academic excellence.
Dr. BRENDA REENU BENJAMIN
Dental Surgeon & Implantologist graduated from Mahatma Gandhi University with keen interest in Digital protocols and Surgery. Trained in various softwares like exo-CAD and R2Gate. Key person in digital protocols in Kamala Dental Super Specialty Hospital. Well trained by R2Gate team from Korea. Has vast clinical experience in Digital Implant Surgery.
SASILATHA V
DENTAL ASSISTANT
LEKHA G.S
DENTAL ASSISTANT
SARIKA P.N
DENTAL ASSISTANT
MERIN RAJ
DENTAL ASSISTANT
SANDHYA RANI
DENTAL ASSISTANT
SOUMYA S
DENTAL ASSISTANT
Expert Dentists with Modern Technology
© 2020 www.kamaladental.com | All Rights Reserved